Introduction
For those, who have not had the pleasure of cruising through the town on your electric scooter, you might find the idea quite absurd and childish. However, that changed ever since I got my own Unagi Electric Scooter. More specifically, ever since I purchased my own Unagi Model One, a decision that I largely thing was the best one I took in years!
We might ask ourselves, why exactly would we need an Electric Scooter? Why not just a real one! Well, for starters, Unagi electric scooter's price is relatively lower as compared to the ones that run on fuel. Another reason for you to prefer this model is the upcoming onset of a shift toward a more electrically driven society, wherein citizens switch over to vehicles that are not driven through the large expenses of extinguishable fuels. It also does not hurt that this decision is very environment-friendly!
Moreover, electric scooters are probably the lightest and the fastest mode of transportation in today's heavily packed metropolitan cities. They provide you with the flexibility to cruise through heavy traffic, climb up a hill, slide through your college campus or embark on an adventurous journey along challenging pathways.
This article will further outline the advantages and disadvantages of your decision to buy Unagi's electrical scooter for yourself, as well as provide an in-depth and well researched review of one of the renowned model of Unagi scooter, that is Unagi model one.
Unagi model one is a blessing in disguise for all those who possess a deep ardour and appreciation for electrically driven scooters, as well as for those who admire smooth functioning and fast-paced machinery. 
Highlights:

The Model One is structured around a sleek frame and is made up of efficient and strong metals such as Aluminum, Magnesium, and Carbon Fiber.
It also consists of a grippy, five-inch wide deck. So, all in all, there is plenty of space on the deck for you to support your legs and keep steady while driving.
Another delightful edition the wide array of Unagi Electric scooter specs is the attachment of a simple console on the scooter.
The 7.5-inch wheels are topped by a set of aesthetic tires, which consist of a perforated fan like frame, with a rubber coating around its axis. This arrangement of layers makes the tires very efficient.
There is a power button that the customer can press to alternate between turning the scooter on and off. There is also a thumb paddle that you would find on the left, which gives the customer access to functions as a brake.
The thumb paddle on the right serves as the accelerator. The close distance between the thumb paddle gives the user the freedom to steer and stay in control of the scooter at all times.
It is now available in dual 250 watt motors and thus making it faster than most of the 26 lbs. scooters. The increased acceleration and speed (15m/hour) is imputed by the scooter now having 250 watt motor.
Models of unagi scooter

The Unagi offers its customers a choice between its two motors: the single motor E250 and the dual motor E450. The most powerful model, the Unagi one model, offered by the company has a dedicated motor in each wheel. Another advantage for the customers is that this model gives them the option to alternate and switch between single motor and double motor modes. This feature is really popular, even if it is not particularly intuitive. The instructions are sort of difficult, and you'll need to really concentrate on how to do it manually to get the hang of it.
The best option to optimize these settings is to switch the drive mode to a single motor drive when you have to cover relatively short distances. On the other hand, if you wish to conserve and make the most out of your battery life, then it makes sense to revert to the low-intensity beginner ride.
Specifications of Unagi scooter

| | |
| --- | --- |
| Motors | Dual 250 w |
| Battery | 28.8 v |
| Speed | 27kmph |
| Range | 25km |
| Weight | 26.5 lbs |
| Frame | Aluminum and carbon |
| Brakes | Front and rear regenerative |
| Lights | Both front and rear |
Features of unagi scooter

Range

One of the other powerful advantages is, of course, the Unagi electric scooter range, which lies within the estimate of 15.5 miles. However, you can optimize this range by using the correct settings, like using the lowest settings for about six miles will only consume up to twenty per cent of the battery.
Motor

Alternately, switching to the double motor mode unleashes more punch. Single motor possesses the ability to push up to an instant maximum power of about 500 watts. Dual motor, on the other hand, flashes up to an electrifying power of about 900 watts in a very short span of time. On a smooth road, while driving on the dual-motor model, Unagi electric scooter can push up to an impressive speed of about fifteen miles per hour without any difficulty.
Performance on hills

Trying to climb steep hills and elevated pathways while driving on the single motor model is not wise, and you would greatly regret ever trying that. However, the dual-motor model is powerful enough to be able to lift you up on top of most of the steeper hills around your neighbourhood. 
So it is evident that the electric scooter is powerful enough to get you through practically any terrain without you having to sweat yourself out.
Dual motor mode

However, one drawback lies in the fact that the dual motor mode drains the battery way more quickly than the single drive mode. Going through one steep hill in the dual-motor model can drain your battery by as little as ten percent in no more than twenty minutes. This is not much of an issue, however, as most of the scooter trips fall averagely under the category of ending in less than three miles. If your commutes are going to be short on an average, then you will face no trouble as one full charge would be more than enough to get your scooter enough juice for several days of dual motor scootering.
Final reflection on unagi scooter's features

It is always convenient to have a lighter scooter like the Unagi for yourself, which is much more versatile than others. It is also very easy to carry, even with one hand, when the handlebar stem is folded. You won't have to burden yourself with the struggle to carry it in and out of your house or putting it on your truck or inside the trunk of your car should you decide to move it or need to take it on a vehicle in case battery runs out.
How to unlock unagi scooter?

The Unagi electric traditionally comes with an easy to operate U-Lock on the handlebar stem.
Count on the lock to keep your scooter safe and steady at all times if you ever face a situation where you have to leave it behind temporarily.
How is the utility and flexibility of unagi model?

However, there are a few issues with the utility and the flexibility offered by Unagi's electric scooter. The wheels, although are impressive and well structured so as to not face problems such as flat tires, you might find yourself puttering around cracks and uneven or rough surfaces that you might have otherwise powered through on other scooters, and it is rated only IP54 to protect against limited dust ingress and water splashes. This is not an issue, however, as, without the presence of any disc brakes, it would have been a foolish choice to venture out on an adventurous journey on Unagi electric scooter during rainy weather anyway. 
And sometimes, you get some of those traditional two-wheel personalized motorbike problems – when you might imagine that you look and feel silly and a little conspicuous while riding the scooter. However elegant and aesthetic the body structure offered by Unagi might be, and however convenient the Unagi electric scooter dimensions might be for cruising through at high speed, with the subdued gray aluminum and carbon frame,
However, in this vast domain of scooter, it is a popular opinion that Unagi occupies a useful firm ground.
It has the upper hand on the xiaomiM365 when it comes to power and battery and motors,
Its significantly lighter and much, much more affordable than the Boosted rev.
Unagi Scooter v/S Boosted Rev

When it comes to electric scooters, there are two names that might predominate and resonate around the market. One is, of course, the star of this article, Unagi electric scooter. And the other is Boosted rev. However, both of them have wonderful features embedded but when we look for scooters, we always go for the best among the various scooters available. lets have a look at the below parameters that will help you decide amid the chaos regarding best scooters:
| | | |
| --- | --- | --- |
| Parameters | Boosted rev | Unagi scooter |
| Speed | 39kmph | 26kmph |
| Weight | 46ibs | 22ibs |
| Maximum rider's weight | 249 | 198 |
| Folded dimension | 44″x24″x20 | 43″x16″x38″ |
| Frame material | Extruded aluminum and forged parts | Aluminum and carbon fiber |
| Lights | Both back and front | Both back and front |
There are huge widespread debates and counter debates on the topic discussing the best option to choose from when it comes to a choice between Unagi scooter and the boosted rev. Fundamentally, there are no deciding factors that would outline the exact reason why you should buy either of the two. It all lies within the mind of the customer. However, the Unagi Scooter definitely has the upper hand over the boosted rev when it comes to facilities and performance. For example, the Unagi electric scooter colors itself victorious over its rival, the Boosted Rev, when it comes to structure and body. The Unagi electric scooter is much sleeker, lighter, and is definitely more affordable on the market than its Booster Rev counterpart.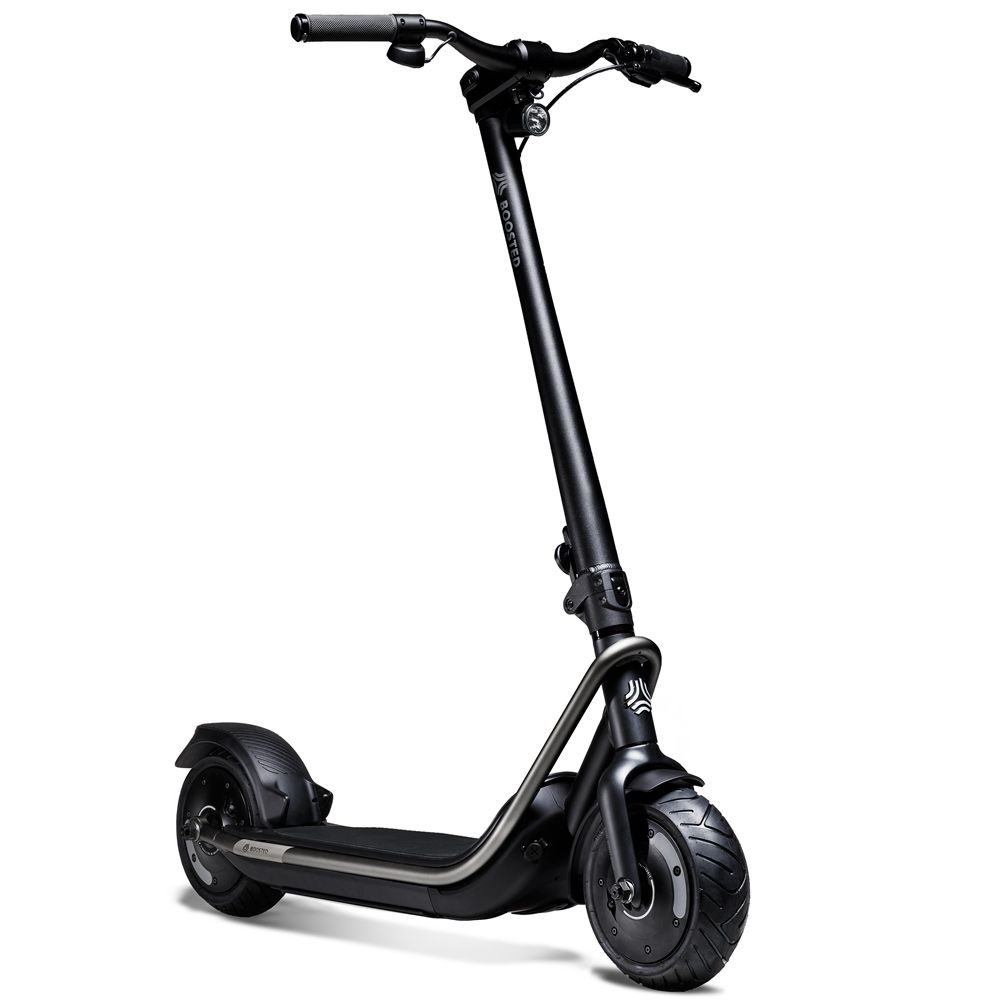 While Boost Rev holds the capability to change several minds and make people realize the true potential of e-scooters, and switch from huge, premium, cumbersome vehicles to the so-called 'flimsy toys that end up on the bottom of the riverbed,' it does not hold a candle to how capable its counterpart, the Unagi Model One is:
The Boosted Rev hosts a beefy structure that could be difficult to control and steady while out on the road. In contrast, the Unagi is, of course, much slimmer and more portable in comparison, a feat which in itself gives it a large number of advantages over its rivals. 
There's a big margin between Model One and Boosted rev in this regard. The rev weights a huge amount of 46 pounds and comes in a box so big that one might struggle to get it through a door. The Model One, weighing 24.24 pounds, arrives in a more convenient, lighter package that you could hoist with just one hand.
Conclusion

When it comes to e-scooter, the Unagi Electric Model One scooter is definitely a giant on the market. And rightly so! It provides us with a huge list of features that we could dote on and ensures powerful performance and safe experience. Moreover, it is also very affordable as far as e-scooters go. So if you are looking for an electric scooter for yourself, you should definitely consider getting yourself this piece of paradise.
Summary
Reviewer
Review Date
Reviewed Item
Author Rating