Introduction
Go kart racing is an everyday activity on pro tracks and gun zones, thus an integral part of American entertainment. With the Ground Force, also referred to as the Razor Electric Go Kart you can have endless fun like never before along long pavements, wide driveways or traffic-free streets.
Electric go-karts do not incorporate a tank filled with gas or hot engines, thereby making them an entertaining and safe way for your children to enjoy themselves. Likewise, these machines need little maintenance. Thanks to their bulky batteries, flipping a go-kart is difficult hence making them safer for your kids to drive.
Combining environment friendliness, well-planned safety features, and fun, a go-kart is a perfect present for your kid. One of its competitor is ninebot go kart. Let's find out which one's better.
Razor Go kart v/s Ninebot Go kart
Features
Razor Gokart
Ninebot Gokart
Rating
The Razor Gokart is a combination of
classic and sturdy construction. It is in
many ways a modern technology for a
goKart
Ninebot Gokart has a stylish and a
Formula 1 kind of a design, made for
racing.
Razor Gokart comes with a variable
speed, thumb trigger acceleration
control which gives a drifting control
It comes with a Ninebot Gokart Kit for
speedy acceleration. It gives you twice
the fun while you ride it.
The maximum speed of a Razor Gokart
is 12mph and the speed develops
gradually
Ninebot Gokart can go from 0 to 12
mph within seconds
The hand operated rear brakes in the
Razor Gokart helps the driver to have
a control while drifting
This one here, has a mechanical
handbrake. It is very useful to stop the
gokart if the electric brakes fail
abruptly.
The Razor Gokart is comparatively not
adjustable in length but it sure has an
adjustable steering
Ninebot has an adjustable frame and
steering wheel which makes it
comfortable and fit for people with the
height of 6'3'' too
Razor Gokart is fit for ages 8 and
above. Not below that
Ninebot fits for young kids to adults
who want to ride the goKart
Razor gokart can cover a distance up to
10 miles in one go
Ninebot can cover a distance upto 12.4
miles in one go
Razor doesn't come with any modes, it
is simple and easy to ride a gokart with
a top speed of 12 mph
Ninebot comes with 3 ride modes, one
with 5mph, second with the top speed
10mph and 15mph for ultra race mode
Features of the Razor Ground Force Drifter
The ground force drifter incorporates a lot of exceptional features that guarantee you unlimited entertainment when using one. Furthermore, its design is sleek and attractive, thus making it appear more fun to ride.
Below is a razor go kart review highlighting all the remarkable features incorporated in this machine.
Wheels
Not many electric go-karts in the market feature specialized slick wheels purposely for drifting. Usually, these rear wheels are made of solid, robust plastic with a bigger slick and solid rubber tires.  Furthermore, its front wheels feature solid rubber tires and molded aluminum rims.
The rear wheels work together with the rear brake that causes the drift as well as the spins that occur and the 180-degree cornering. It is enjoyable for children as they get to try out the drifting tricks they often see on the favorite shows.
Bucket seat with a shoulder harness
You always want your child to have the utmost fun while driving a ground force drifter kart. Therefore, once you have a seat on the bucket seat and then buckle them using a shoulder seat harness, your child's fun factor without a doubt reaches 100%. With this safety feature, you can be sure that your kid is safe when drifting around corners and driving at a maximum speed of 12 miles per hour. Consequently, this makes your kid feel like the drift queen or king in the playground.
Steel frame
The flooring and structure of this razor ground force drifter are made from steel and durable plastics. Additionally, this go-kart weighs in at 65 pounds and a flag to provide your child with increased visual safety. The weight limit of this go-kart is 140 pounds.
In the event of an accident, your kid's safety will be guaranteed thanks to the steel frame which will safeguard them, unlike a plastic frame which upon impact would shatter consequently causing them injury.
The floorboard of this kart does not have any exposed holes which can cause scuff your child's feet. In comparison to wooden karts, this ground force drifter is robust and solid with long-lasting paintwork to protect the steel frame from corrosion and rust. Moreover, the steering rack features opinions which are sheltered with rubber covers to inhibit fingers from being trapped by the moving parts of getting pinched. However, all the wheels of the Razor go-kart have no suspension so it is advisable only to use it on flat and smooth surfaces.
Battery and Charging Time
Integrated into electric go-karts are rechargeable batteries. Whereas not every go-kart comes with a battery charger, the Razor Ground Force drifter does come with one to power the engine of this electric kart. Therefore, this saves you money as you do not have to buy another accessory so that your child gets to enjoy their go-kart.
To fully charge the battery pack, the initial charge requited is 12 hours. While charging, you must turn off the kart doing this from its back. Subsequently, you should take off the plastic cap from the charging socket adjacent to the power switch at the kart's rear. After doing this, plug in the provided charging cable into the charging socket of the go-kart.
You should never overcharge the razor ground force drifter for a period exceeding 12 hours. Typically, once fully charged, the ground force drifter kart can travel a distance of seven to eight miles or last for a riding duration of 45 minutes to one hour.  Nevertheless, all the other subsequent battery charging of the Razor go-kart will be for six hours.
A drifter brake
The brake on this go-kart works by you clutching the brake lever on its steering wheel similar to when you are braking on your bicycle. The brake lever pulls the brake cable which usually goes into the steering column. Consequently, a wire is fed to the back wheel where a successive adjustment for the brake cable is situated. The brake mechanism on a ground force drifter kart is a belt which grips the brake drum on the rear axle of the wheel. Thus, the harder you press, the quicker the go-kart comes to a halt.
Parts
The assembly of the Razor ground drifter parts needs to be done out-of-the-box. You will be provided with an Allen wrench to help you construct the kart.
Once you have assembled as well as charged the Razor Force drifter fully, inspect its front wheels, rear wheels, as well as the handlebars. If everything is okay, the kart is ready to go and can travel for speeds of up to 15 miles per hour.
Steering Assembly
The handlebar of the Razor Ground Force drifter comes fully assembled out-of-the-box. Therefore, all you are required to do is installing it to the steel frame, connect the pinions and the steering mechanism is complete. On the left side is the brake-style brake lever and whereas on the right side is the mounted throttle control.
This throttle usually is variable, and this means it comprises of both full-speed and half-speed positions.
Thanks to the tires and high torque of its electric engine, this Razor go-kart accelerates reasonably quickly from a standing position.
Before we go into pros and cons, watch this go kart race –
PROS
Incorporates a chain-driven motor
Its rear brakes are hand-operated
Has thumb trigger acceleration
Features solid rubber tires
Fun and easy to operate.
A steel frame is integrated into its design
Features a raced tuned chassis
Hand controlled brake and accelerator make this Razor Ground Force drifter easy to learn as well as drive
These Razor go-karts have variable speed
A flag is included
Includes two 12V rechargeable batteries to provide power
A battery charger is included
Once fully charged, this Razor go-kart operates for approximately forty minutes
It can comfortably handle a maximum weight of one hundred and forty pounds
The back tires are super slick
Integrated into it are moulded aluminium wheels
The bucket seats have a shoulder safety harness
CONS
•    Some e assemble is needed before this go-kart can be driven.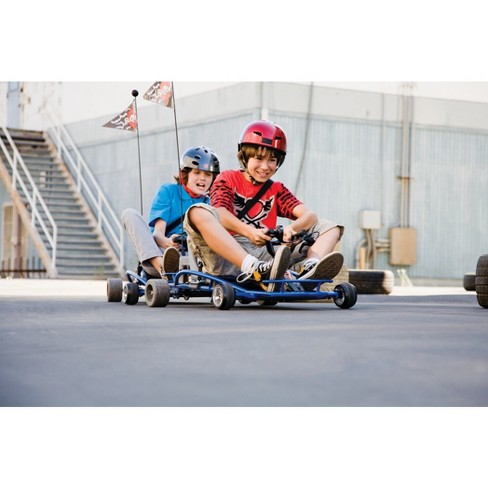 Factors to consider when choosing a Razor Ground Force Drifter Kart
Controls
Some of the Razor go-karts are easy to operate as well as incredibly user-friendly. This is primarily a vital factor to consider when it comes to brake or acceleration systems. 
Furthermore, children often prefer using controls that are less complex despite some complexity that would be ideal in helping them grow their creativity as well as their brain's ability. Therefore, due to this reason, you need to take extreme care when picking a kart as you want one which has suitable controls for your child.
Speed
When purchasing the go-kart, choose one which you feel is appropriate for your kid. Factor in several factors before deciding on the Ground Force drifter such as your child's age, ability to move, and flexibility to make an informed decision.
Runtime
Before buying the go-kart, ensure it can operate for a satisfactory duration before it gets depleted of power. Therefore, confirm that you check the runtime with this often depends on the battery being used. Carry out a thorough research on all the battery options available which offer you value.
Safety tips when using a Razor Go Kart
•    The Razor Ground Force drifter does not operate very well grass lawns since the design of its wheels is meant for flat or pavement surfaces. Fortunately, local parking lots usually are empty on Sundays, and these are perfect spots for you to take your children to drive and enjoy themselves without any concern of hitting somebody.
•    Buy a good sturdy helmet for you kid to offer them with the extra safety while they are out enjoying themselves on the Ground Force Drifter kart.
Final Thoughts about the Razor Force Drifter Kart
This kart is extremely fun to operate as well as easy to use, thereby making it the perfect gift for your kid. With it, they get to drive and enjoy themselves while simultaneously improving their cognitive learning by operating this go-kart.
However, you should purchase a helmet for your kid since there always is the likelihood of an accident. So, with protective gear, your kid is protected from getting severe injuries.
All in all, the Razor Ground Force drifter is an excellent buy and one you will not regret even for a moment.