Introduction



A hoverboard is one of the favorite pastimes for kids and teenagers. It not only encourages them to play outside, which is great for their physical health but also helps them improve their balancing skills. It can further help them to improve their body posture. Hoverboards have seen increasing popularity over the years due to innovation in design and the technology used in the newer models.
More and more children are learning to use a hoverboard is it a great part-time and sport for them. However, if a child is new to using a hoverboard, there is a bigger chance of him or her falling and getting hurt. Therefore, parents need to provide a complete Hoverboard safety gear for kids. It not only protects them against small accidents but also protects them from bruises and impacts on sensitive areas.
There are different types of Hoverboard Safety gears available for children that protects the various parts of their body. Separate safety gears are available for head, hands, shoulders, legs, and knees, etc. Let's have a look at some of the few features that should be checked while buying safety gear of your kids. There are very important and should have features for a hoverboard.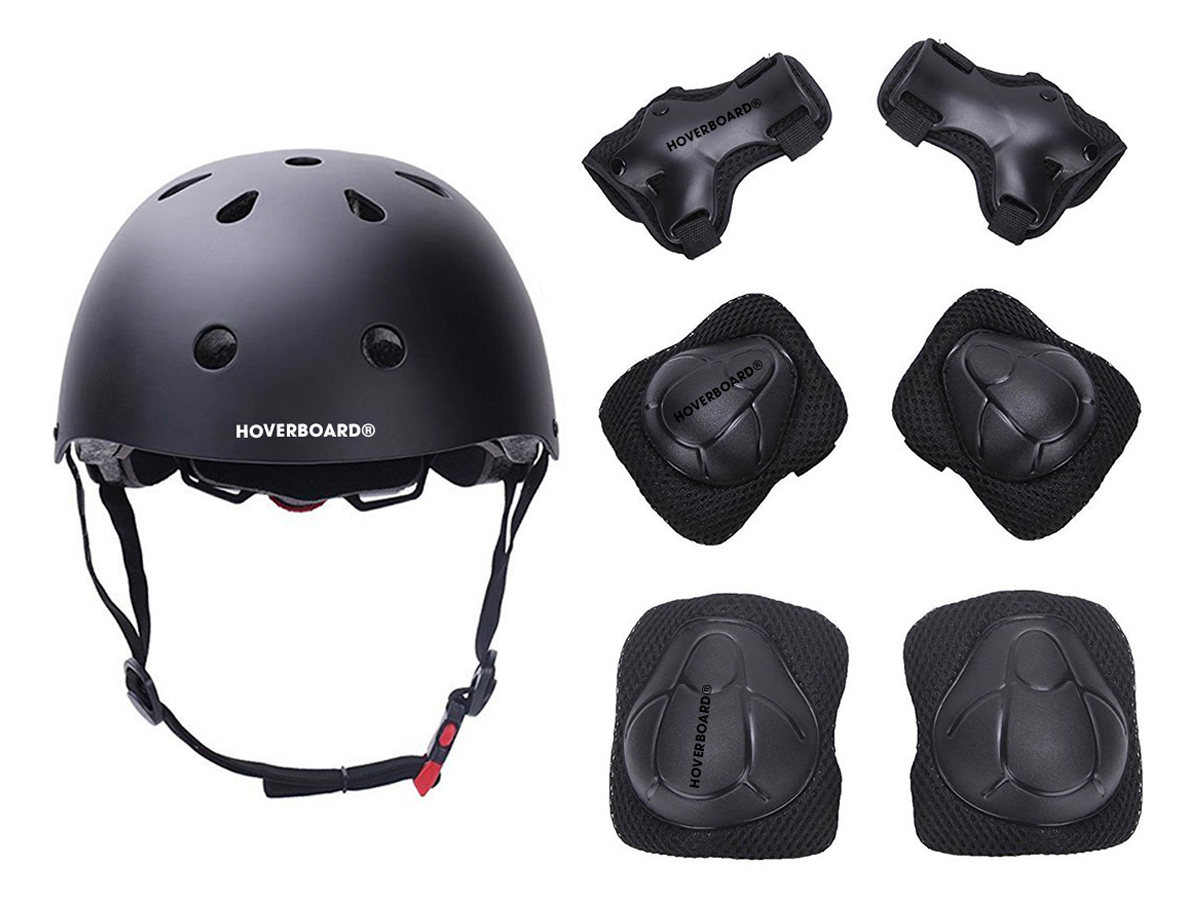 The material used for manufacturing

The type of material used while making the hoverboard safety gear is equal to the protection one will buy for their kids. A parent should check the material and its quality used in gear. If the gear bulges too easily when a little force is added, then an individual should avoid buying it.
Such gear will easily break or crack in case your kids fall. Its debris can cause further damage to the skin of your child. The gear should be made up of high-quality material. Mostly it is made with high-quality plastic with metal framing to give extra strength. It would also contain enough cushion to provide a comfortable fit. These hoverboard safety gear will not break on impact and will protect your child from any accidents.
Good Fit

A good fit is key to provide proper protection for your
kid. If the gear is too loose,
it will automatically fall in case of an impact. Too tight will be
uncomfortable for your kid. Make sure that the gear perfectly fits your kids to
get a good grip on the child's body and keeping it comfortable at the same
time. The good quality cushion used in these gears can affect the fitting
quality. Make sure to check the quality of cushion that provides an adjustable
fit with comfort.
Free body movement

Safety gear should allow
your kids to move freely. For example, purchasing a helmet that is too big for
a kid, would have a chance of bending down and decreasing his visibility. Also,
shoulder or knee gear that is uncomfortable while moving the body will stop the
kid from moving freely. Make sure to purchase the gear which does not hinder
the body movements.
Let's have a look at some of the Hoverboard safety gear for kids that is essential while operating a hoverboard.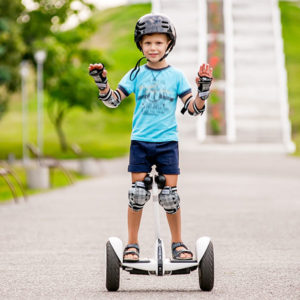 Hoverboard Helmets

Our head is one of the most sensitive parts of the body and it requires a safety helmet that is made up of good quality material. There are many Hoverboard helmets available for kids available online at various price ranges. JBM Kids & Adults safety helmet is one of the popular choices among kids. The company claims that the helmet is made out of 4 layer technology which not only provides safety for any impact but also provides a comfortable fit for children.
DaCool Kids helmet is another from the range that provides complete head protection for kids while using a hoverboard. The company claims to provide a lifetime warranty with premium quality material used to manufacture it. Another helmet in the range is Ledivo Kids Adjustable Helmet which provides a one-year quality warranty and is known to be impact resistant.
Hoverboard protect pads

Hoverboard protects pads for knees and elbows are very important for kids. This is often the first point of impact when a kid falls and with maximum impact. Therefore, the need for this gear is very important for any kid. One of the most popular knee and elbow guards in the market for kids is Mongoose BMX Bike Gel Knee and Elbow Pad Set.
The safety gear sets provide maximum protection against falls and minor accidents. This is due to the superior quality of cushion that is used. The foam fitting in these is very durable and extremely comfortable for kids. It also has a pink gel insert to provide maximum absorption during an impact. Straps provide for adjustable and comfortable fits.
The gear is perfect for kids age 8 to 14. Mongoose has been manufacturing safety gear for kids for a very long time and is a trusted brand in this product category. The hard and protective build of their products protects most of the impacts. The product weighs just 12.6 ounces and is very light to use.
Multiple customers have given positive reviews for this product and have found it safe for their kids. Apart from people's opinion, this is a must-have safety gear for kids and should be bought by any parents whose children are using a hoverboard.
Bell Kids Protective Pad and Glove Sets is another safety gear that is preferred by consumers for their kids. The kit contains elbow and knee guard with hand gloves. The gloves are well padded to protect the palm in case the kid falls. It also features custom high impact skin guards. The product quality seems to be high and provides complete protection to the kids.
UniqueFit Lucky-M Kids Outdoor Sports Protective Gear is also a popular safety gear kit that provides helmet, knee and elbow guards and a wrist guard. This is a complete safety gear kit for kids. The padding inside is made of premium ABS breathable sponge and comes with adjustable knee straps for a perfect fit. The entire kit is made for kids from 3 to 8 years old.
Hoverboard safety handle

Balancing on the hoverboard is not as easy as it seems. It might be easier for some kids, but for some, it can take a little time. While some kids are learning to balance on a hoverboard, they might fall and hurt themselves. In this case, various safety gear can help to protect them. However, another way of handling the situation is by not letting the kids fall and help them easily balance on the hoverboard.
To achieve that Hoverboard safety handle is the best. They are attached to the front of the hoverboard and the kids get a handle similar to what is available in the kid's scooter. This helps them to stabilize themselves and maintain the balance. Aubestker Handlebars Kit is one of the few safety handles for a hoverboard that is very popular in the market. Made with premium quality material, it is easy to grip and handle and comes with easy installation.
The product also has a rearview mirror and comes with a 100% money-back guarantee. Another product with positive reviews from a consumer is Dual Purpose Segway Handlebar. The best feature is that it can easily be to a handlebar and back to the knee controller due to its easy disassembly. It also contains a silicon phone mount and has a =n adjustable height.
Hoverboard Safety Lights

Hoverboard safety lights are very important for kids, especially when they are riding the hoverboard in dark. These safety lights are attached to the wheels and while using the hoverboards, these lights spin in a circular motion, which is easily noticeable at a distance. The lights work on the battery of the hoverboard. Since they are mostly made out of Led's they consume very less power.
They come in different colors and design and is a must for all kids using a hoverboard. These are especially required in the dark to make sure that the kid can easily be detected in case he or she is using the hoverboard on the road. Many different models of Hoverboard also comes with inbuilt lights as safety features. Apart from the safety features it also makes the hoverboard look more attractive.
These safety lights are available in the market in various price ranges. However, hoverboards with integrated LED lights are still a better option as the lights are attached by the company and have a warranty on malfunction. These lights can also work as side indicators for the hoverboard. It can help identify the person is going to turn left or right.
Apart from led light, one can also attach a led safety light strip that looks attractive and provide a safety feature as well. You can look at various hoverboard safety lights through this link. Here, you will be able to find a different kind of safety light and many hoverboards that have attached safety light with them.